We want to say a big thank you to all of our partners and all the attendees that joined us for our Kick Start 2020 event, which was also our first of many!
The evening was full of motivation and inspiration. The night started with Zigs Exercise leading and getting everyone involved in an interactive session that got everyone shuffling around the showroom. Zigs are a local personal training company who particularly help with aches and stiffness, so the FREE massages that went on throughout the night were a huge success -we even had chance to have one ourselves and can highly recommend!
We provided soup, and Bensons provided juice for all attendees for when they mingled around the showroom speaking to local companies who joined us to help host the event.
The 30 second bike challenge proved popular, 30 seconds feels like a very long time to be vigorously pedaling to try and get the highest watts on the bike. Jason from Suffershire led the challenge and everyone who join in (including us), came off panting! Suffershire offer bike classes for everyone – beginners or budding cyclists training for an event – they even have a waiting list as it has proven so popular! There was a prize for the fastest female and male and they both took away a bottle of bubbles to celebrate.
Kieran then jumped into the Hydropool swim spa and did a demo for everyone to watch! Kieran is training to swim across the English Channel in the Summer and he is a regular visitor to our showroom where he trains in the Swim Spa. He showed everyone how to use the resistance, the varied power settings and the different features including the running mat on the floor of the Swim Spa. Ollie from Hydropool UK was here to tell everyone how the Swim Spa can benefit a huge range of customers – whether you're nursing an injury, training for an event or simply want to swim everyday without leaving your home.
Everyone got to leave the event with a Hydropool drawstring bag full of vouchers and goodies.
If you couldn't make the event, then do keep visiting our website for information on the next one that we'll be hosting in the near future. We'll also be exhibiting again at local shows, holding yard sales and having more in-house events throughout the year.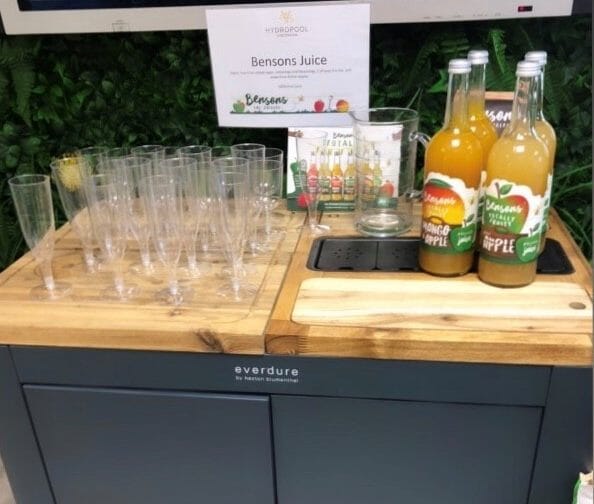 Bensons Juice on display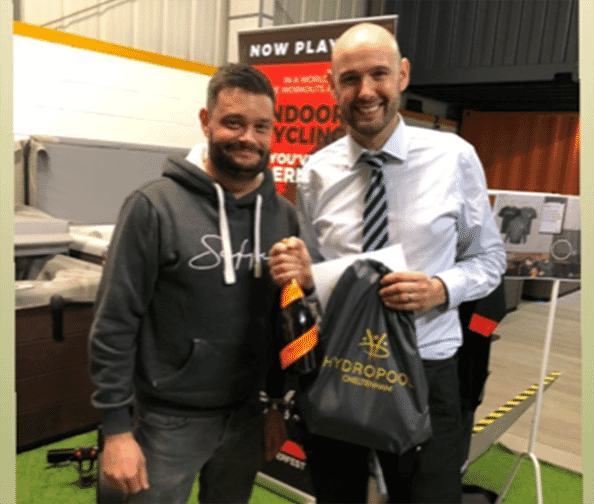 Winner of the 30 second bike challenge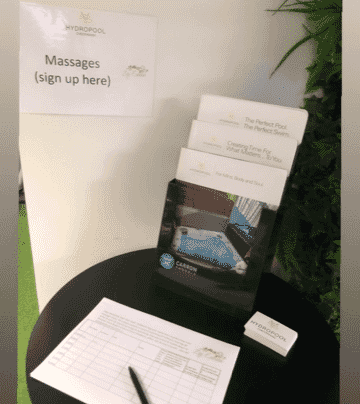 FREE massage sign up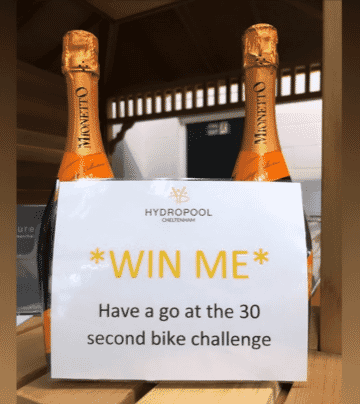 Bubbly for the winners