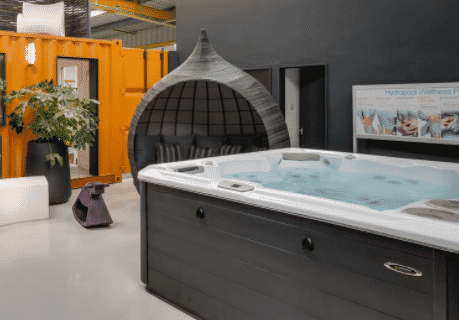 While we are lucky to have some of the best destination spas in the UK in the Cotswolds, you simply can't beat having your own personal oasis at home. Being able to train, entertain, rehabilitate and relax in complete privacy – and style – isn't something many could boast, until now.
Out of our new spa showroom on Battledown Trading Estate, spa seekers, design addicts, aspiring athletes and families looking to have some outdoor fun can experience the world's first self-cleaning hot tubs and swim spas by Canadian manufacturer Hydropool; the world leader of the hot tub industry with a reputation of excellence and quality.
Offering fitness on tap in your backgarden, the increasingly popular swim spa is a must for many top athletes and trainers, as well as casual swimmers and families looking for a pool to have fun in. This space-saving training aid is perfect for swimming, cross training, relaxation and rehabilitation; boasting pioneering SwimFlow technology which enables you to swim in place as you would in a full-size swimming pool – without the hefty cost and maintenance. And what's more, you can adjust the resistance depending on your age, strength and technique for a truly unique and invigorating workout.
The hot tubs, meanwhile, not only provide targeted tension relief tailored to you, but also a host of hydrotherapy and health benefits to help treat everything from arthritis, sports injuries and stress to simple aches and pains. The innovative 'zone' jet system creates a stimulating, custom massage which can target specific areas after a workout, increase blood circulation and endorphins, decrease muscle inflammation and more. Not to mention hours of fun and relaxaton!
Both exclusive ranges are entirely self-cleaning, giving you more time to train, entertain or simply relax in style, while the cutting edge insulation system saves money by retaining and reusing heat.
"Contact us to book a trial in one of our demonstration spas or simply pop by the new showroom to experience it for yourself – there's free parking and no time restrictions, meaning you'll have all the time you need to talk to us about how you can create your own secret sanctuary."